King Of the Hammers is unlike any event held in the United States. Not only is it the hardest single day off road race, it is multiple races throughout the week that are ALL the hardest that class of vehicle / driver has ever seen. In addition to the four individual races, there are concerts, hospitality areas, ride and drive booths set up by every major UTV manufacturer, and even a full garage set up by BFGoodrich Tires, where anyone attending the event could take their vehicle for fabrication and repairs free of charge. This year's attendance numbers were well
over 100,000 people
, making "Hammertown" the fastest growing and shrinking city in the world. Yes Hammertown USA is an actual city, look it up. People come from all over the US and from all around the world to race and watch others race.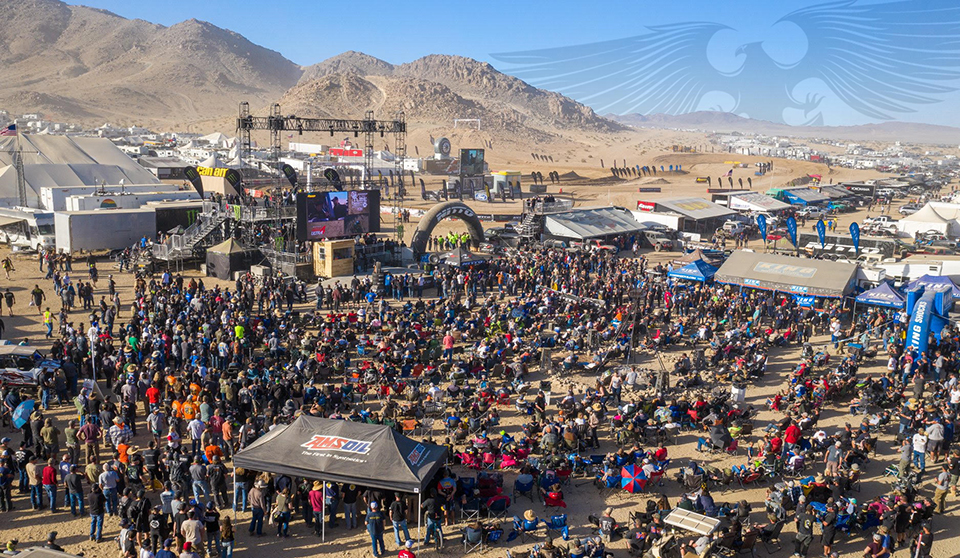 Pro Eagle
was staged for the busy "week" with plenty of inventory to supply last minute needs, parts and pieces to make repairs and our own activities at the booth to keep things fun. We arrived on Thursday and were quickly swamped with people needing jacks. Since KOH is held in the middle of the California desert, 40-50 miles from the nearest city, it makes it difficult for teams that are unprepared or have parts / tools that break. Since the first race of the week was on Sunday, teams had arrived to the event early to practice, prerun, and get the proper setup on their cars. That meant that parts were already starting to fail and 
some teams found out the hard way that their jacks just couldn't cope with such a harsh environment
. Working on a car in the dirt for a week really makes you appreciate a jack that moves so easily, gives the lift height needed, and always works like it's supposed to. 

   
Sunday's UTV race was a huge success for Pro Eagle. We had just launched our Co2 operated jack a few months prior and many of the top competitors were running the jack on their race cars. We saw a few being used on the live feed of the race and heard many stories from drivers and co-drivers afterwards on how the jacks made a difference in their race. The most notable was Kyle Chaney's story. Kyle was leading the race with a few miles remaining when he rolled his car on its side on one of the many rock obstacles. Kyle and his co-driver tried rolling the car back over by hand but couldn't. Kyle remembered the jack and placed it under the roll bar as the co-driver held the car in place. With one lift from the jack they were able to get enough momentum to push the car all the way over onto it's wheels. Unfortunately, Kyle had forgotten to put the car in park, and it took off rolling down the hill, running him over and breaking his foot in the process. The co-driver, knowing how valuable the jack was to their race, ran back up the hill and grabbed the jack. They were able to get back in the car and still finished in second place. Pro Eagle jacks were on the top three finishers in the UTV race and both the first and second place finishers actually used them during the race. This was the first real world test for this new jack and we'd say it was quite a success!.

Last year, the Ultra 4 Racing came to us and asked us to organize a Pit Crew Competition. This would put the pit crews in the spotlight in front of hundreds of cheering fans, giving them their time to shine. Ultra 4 is very hands on and in discussions with teams after the race last year they asked what they did right, wrong, and what could be better. Everyone said that without a doubt, the Pit Crew Competition was the most fun they had all week, so guess what, it was back for 2020. We asked our friends at Buggy Whip, Boxo Tools and Power Tank to help out with product, prizes, and sheer manpower to manage the event. The crews would have to dump 10 gallons of water, simulating gasoline, then jack up the front of their vehicle to change one tire. Once all of the crew members were clear of the vehicle, their times stopped. We had two 3-ton jacks ready for the teams to do head to head battle. After all 24 teams had their shot at glory, it was the team of Jason Blanton with the fastest time of the night.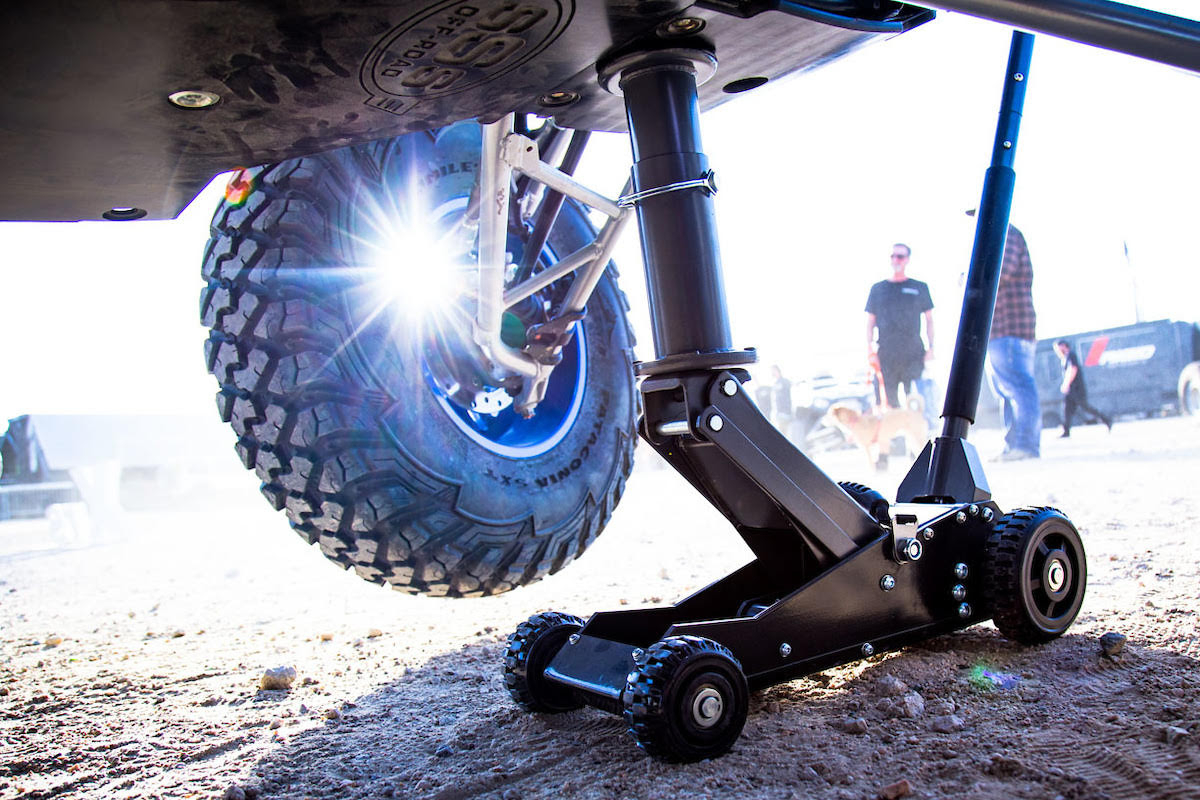 Wednesday's Everyman Challenge and Friday's Unlimited Class race were next on the schedule. These vehicles range from Suzuki Samurais and Jeep Cherokees, all the way to purpose-built tube chassis race vehicles with 4-wheel independent suspension. Every one of these vehicles weigh 4000 lbs or more. Even the little Samurai with a full roll cage and safety gear is quite heavy  All of the pits are in the dirt which makes pushing a regular jack around not only tiresome but very slow and inefficient.
Lifting these heavy vehicles in soft dirt or sand is no small task either. This is where Pro Eagle shines!
There were a ton of Pro Eagle jacks out there and we love seeing it. What we love even more is when teams using an inferior jack, have an issue of some kind and someone from a neighboring pit comes running in with a Pro Eagle to save the day,
 as we can appreciate 
in this video:
There were a few of our floor jacks in race vehicles and hundreds in use out in the pits. Once again the top finishers on each day had issues of one kind or another and all had Pro Eagle jacks that got put to use getting them to the finish line the fastest.
One thing that we were able to do and keep it a secret was to test our new 1.5 ton jack out in the real world. We had a truck in Wednesday's race that we mounted the jack on and they took it for a wild ride. Fortunately for them, unfortunate for us, they never had to use it. We did get to take it out and use it after that and it worked like a charm.
This jack truly is the best jack we have ever built.
We have taken everything we have learned over the years and put that into this jack. We are excited to get it out on the market. Look for it to hit the shelves in the next few months.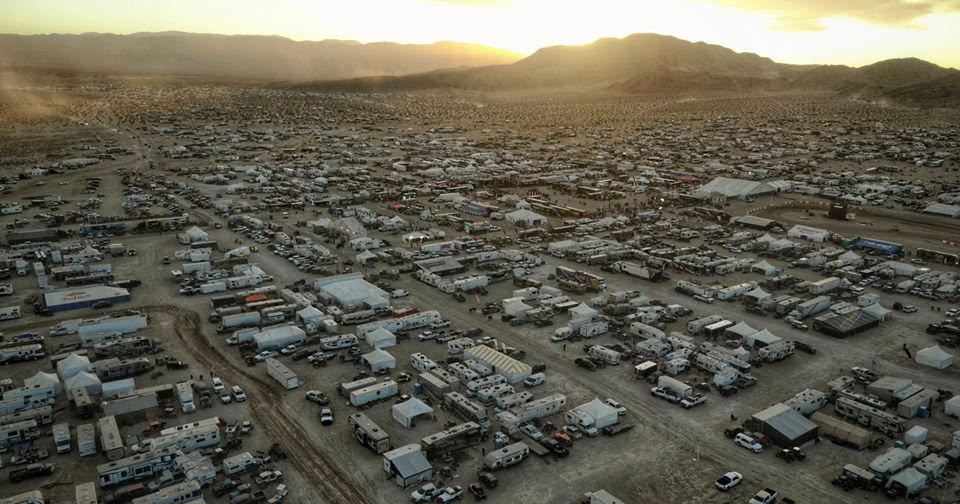 10 days in the desert sounds like a blast to some, and trust us when we say we love it! However after dealing with the cold, wind, dust so thick it's hard to breathe, and sand blowing in your face for a week, it was nice to get back home. Pro Eagle's event staff is 99% volunteers and without them, none of who we are today would be possible. We want to thank Samantha Coye, Kyle Piper, Greg Foreman, Austen Coye and Jennifer Slieff for their hard work and help all week.